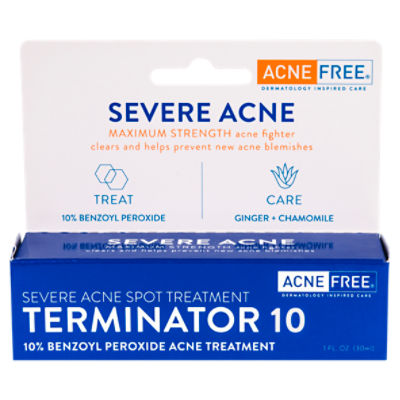 ACNE FREE Terminator 10 Severe Acne Spot Treatment, 1 fl oz
$5.24
was $6.99
$5.24/fl oz
Sale Information
On Sale!
Sale price valid from 2/5/2023 until 2/11/2023
Description
ACNE FREE Terminator 10 Severe Acne Spot Treatment, 1 fl oz Help terminate spots! With maximum strength 10% micronized benzoyl peroxide, this spot treatment rapidly penetrates deep into pores to fight acne breakouts. It treats blemishes and helps prevent new acne breakouts. It also contains caring ingredients such as chamomile and ginger. Acnefree is a dermatological approach to both treat acne and care for skin. Drugs Facts Active ingredient - Purpose Benzoyl peroxide 10% - Acne treatment Use For the treatment of acne
Ingredients
Inactive Ingredients: Acrylates/C10-30 Alkyl Acrylate Crosspolymer, Benzalkonium Chloride, Bisabolol, Butylene Glycol, Chamomilla Recutita (Matricaria) Flower Extract, Ethylhexylglycerin, Glycerin, Methyl Methacrylate/Glycol Dimethacrylate Crosspolymer, Methylpropanediol, Phenoxyethanol, Sea Whip Extract, Sodium Benzoate, Sodium Hydroxide, Tetrasodium EDTA, Water, Zingiber Officinale (Ginger) Root Extract;
Product Number: 03606000537149
Sale Information
On Sale!
Sale price valid from 2/5/2023 until 2/11/2023
Description
ACNE FREE Terminator 10 Severe Acne Spot Treatment, 1 fl oz Help terminate spots! With maximum strength 10% micronized benzoyl peroxide, this spot treatment rapidly penetrates deep into pores to fight acne breakouts. It treats blemishes and helps prevent new acne breakouts. It also contains caring ingredients such as chamomile and ginger. Acnefree is a dermatological approach to both treat acne and care for skin. Drugs Facts Active ingredient - Purpose Benzoyl peroxide 10% - Acne treatment Use For the treatment of acne
Product Number: 03606000537149
Ingredients
Inactive Ingredients: Acrylates/C10-30 Alkyl Acrylate Crosspolymer, Benzalkonium Chloride, Bisabolol, Butylene Glycol, Chamomilla Recutita (Matricaria) Flower Extract, Ethylhexylglycerin, Glycerin, Methyl Methacrylate/Glycol Dimethacrylate Crosspolymer, Methylpropanediol, Phenoxyethanol, Sea Whip Extract, Sodium Benzoate, Sodium Hydroxide, Tetrasodium EDTA, Water, Zingiber Officinale (Ginger) Root Extract;
Product Number: 03606000537149