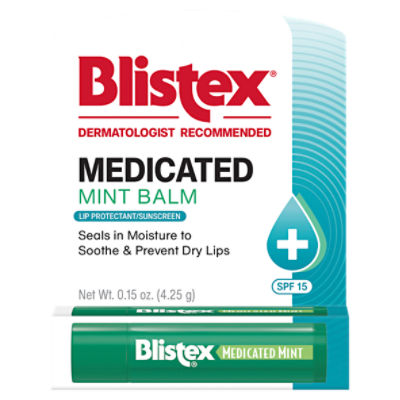 Blistex Medicated Mint Balm, SPF 15
Sale Information
On Sale!
Sales price valid from 1/22/2023 until 1/28/2023
Description
Blistex Medicated Mint Balm, SPF 15 Blistex Mint Lip Balm helps prevent dryness and chapping. Its easy glide formula also soothes irritated lips. Dry, Chapped Lips: Blistex lip balm contains three long-lasting protectants, and it seals in moisture to alleviate dryness and prevent reoccurrence. It also glides on comfortably to provide complete coverage and avoid further irritation of chapped lips. Drug Facts Active ingredients - Purpose Dimethicone 2.0% (w/w) - Lip protectant Octinoxate 6.6% (w/w), octisalate 4.4% (w/w) - Sunscreen Uses ⦁ temporarily protects and helps relieve chapped or cracked lips ⦁ helps prevent sunburn
Ingredients
Inactive Ingredients: Beeswax, Camphor, Cetyl Alcohol, Cetyl Palmitate, Euphorbia Cerifera (Candelilla) Wax, Flavor, Isopropyl Myristate, Lanolin, Lanolin Oil, Menthol, Mineral Oil, Ozokerite, Paraffin, Petrolatum, Phenoxyethanol, Polybutene, Theobroma Cacao (Cocoa) Seed Butter, Titanium Dioxide;
Product Number: 00041388220314
Sale Information
On Sale!
Sales price valid from 1/22/2023 until 1/28/2023
Description
Blistex Medicated Mint Balm, SPF 15 Blistex Mint Lip Balm helps prevent dryness and chapping. Its easy glide formula also soothes irritated lips. Dry, Chapped Lips: Blistex lip balm contains three long-lasting protectants, and it seals in moisture to alleviate dryness and prevent reoccurrence. It also glides on comfortably to provide complete coverage and avoid further irritation of chapped lips. Drug Facts Active ingredients - Purpose Dimethicone 2.0% (w/w) - Lip protectant Octinoxate 6.6% (w/w), octisalate 4.4% (w/w) - Sunscreen Uses ⦁ temporarily protects and helps relieve chapped or cracked lips ⦁ helps prevent sunburn
Product Number: 00041388220314
Ingredients
Inactive Ingredients: Beeswax, Camphor, Cetyl Alcohol, Cetyl Palmitate, Euphorbia Cerifera (Candelilla) Wax, Flavor, Isopropyl Myristate, Lanolin, Lanolin Oil, Menthol, Mineral Oil, Ozokerite, Paraffin, Petrolatum, Phenoxyethanol, Polybutene, Theobroma Cacao (Cocoa) Seed Butter, Titanium Dioxide;
Product Number: 00041388220314