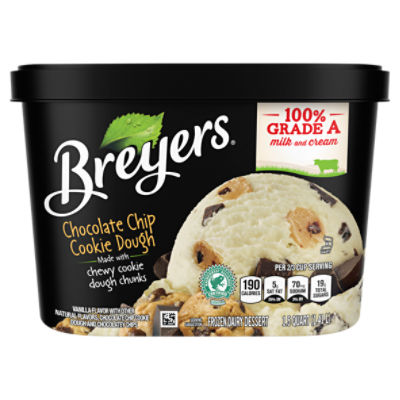 Breyers Frozen Dairy Dessert Chocolate Chip Cookie Dough 48 oz
Sale Information
On Sale!
Sales price valid from 1/22/2023 until 1/28/2023
Description
Breyers Frozen Dairy Dessert Chocolate Chip Cookie Dough 48 oz Less bake time, more playtime! Chunks of chewy chocolate chip cookie dough folded into Breyers creamy vanilla make Breyers Chocolate Chip Cookie Dough a chunky, chewy taste-bud pleaser. Chunks, chips, and vanilla? Not only delicious, but also made with high-quality ingredients like fresh cream, sugar and milk. In fact, our milk and cream are 100% Grade A from American cows not treated with artificial growth hormones*. We use colors and flavors from natural sources and only sustainably farmed fruit and vanilla**. Our commitment to using high-quality ingredients goes back more than 150 years, when in 1866 William Breyer started his small ice cream business in Philly. Back then, he decided to only use the best milk, cream, sugar, and fruit through his Pledge of Purity. Now, we follow his philosophy to still use high-quality ingredients to give you a great-tasting frozen dairy dessert. Try Breyers Chocolate Chip Cookie Dough frozen treat and let us know what you think at Breyers.com! *The FDA states that no significant difference has been shown between dairy derived from rBST-treated and non-rBST-treated cows. ** Our product, before the inclusion of any candies, cookies, sauces or fruit from other suppliers, will fully abide by this claim. Vanilla Flavor with Other Natural Flavors, Chocolate Chip Cookie Dough and Chocolate Flavored Chips Our Milk & Cream Promise No Artificial Growth Hormones* Used on Cows
Ingredients
Milk; Sugar; Corn Syrup; Cream; Enriched Wheat Flour [Wheat Flour, Niacin, Reduced Iron, Thiamine Mononitrate (Vitamin B1), Riboflavin (Vitamin B2), Folic Acid]; Brown Sugar; Contains 2% or less of each of the following: Whey, Palm Oil, Coconut Oil, Dutched Cocoa (processed with Alkali), Soybean Oil, Mono and Diglycerides, Vegetable Gums (Guar, Carob Bean, Tara), Powdered Sugar (Sugar, Cornstarch), Natural Flavor, Chocolate Liquor, Salt, Cocoa Butter, Soy Lecithin, Baking Soda, Carrageenan, Annatto (for color), Vitamin A Palmitate;
Nutrition Facts
12 servings pr container
Product Number: 00077567254443
Sale Information
On Sale!
Sales price valid from 1/22/2023 until 1/28/2023
Description
Breyers Frozen Dairy Dessert Chocolate Chip Cookie Dough 48 oz Less bake time, more playtime! Chunks of chewy chocolate chip cookie dough folded into Breyers creamy vanilla make Breyers Chocolate Chip Cookie Dough a chunky, chewy taste-bud pleaser. Chunks, chips, and vanilla? Not only delicious, but also made with high-quality ingredients like fresh cream, sugar and milk. In fact, our milk and cream are 100% Grade A from American cows not treated with artificial growth hormones*. We use colors and flavors from natural sources and only sustainably farmed fruit and vanilla**. Our commitment to using high-quality ingredients goes back more than 150 years, when in 1866 William Breyer started his small ice cream business in Philly. Back then, he decided to only use the best milk, cream, sugar, and fruit through his Pledge of Purity. Now, we follow his philosophy to still use high-quality ingredients to give you a great-tasting frozen dairy dessert. Try Breyers Chocolate Chip Cookie Dough frozen treat and let us know what you think at Breyers.com! *The FDA states that no significant difference has been shown between dairy derived from rBST-treated and non-rBST-treated cows. ** Our product, before the inclusion of any candies, cookies, sauces or fruit from other suppliers, will fully abide by this claim. Vanilla Flavor with Other Natural Flavors, Chocolate Chip Cookie Dough and Chocolate Flavored Chips Our Milk & Cream Promise No Artificial Growth Hormones* Used on Cows
Product Number: 00077567254443
Ingredients
Milk; Sugar; Corn Syrup; Cream; Enriched Wheat Flour [Wheat Flour, Niacin, Reduced Iron, Thiamine Mononitrate (Vitamin B1), Riboflavin (Vitamin B2), Folic Acid]; Brown Sugar; Contains 2% or less of each of the following: Whey, Palm Oil, Coconut Oil, Dutched Cocoa (processed with Alkali), Soybean Oil, Mono and Diglycerides, Vegetable Gums (Guar, Carob Bean, Tara), Powdered Sugar (Sugar, Cornstarch), Natural Flavor, Chocolate Liquor, Salt, Cocoa Butter, Soy Lecithin, Baking Soda, Carrageenan, Annatto (for color), Vitamin A Palmitate;
Nutrition Facts
12 servings pr container
Product Number: 00077567254443