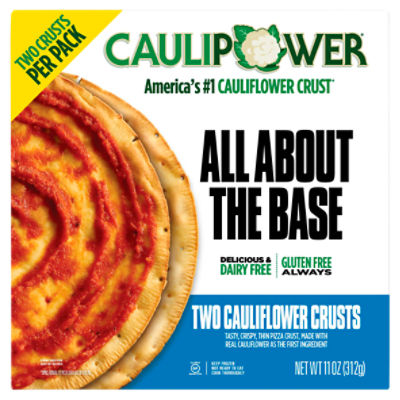 CAULIPOWER Cauliflower Pizza Crusts, 2 Pack, 11 oz
Sale Information
On Sale!
Sale price valid from 2/5/2023 until 2/11/2023
Description
CAULIPOWER Cauliflower Pizza Crusts, 2 Pack, 11 oz CAULIPOWER® uses the power of veggies to make healthier, easier versions of the food you crave, that actually TASTE like the food you crave. CAULIPOWER is the #1 selling cauliflower crust pizza, the #1 natural pizza, and the #1 gluten-free pizza in the U.S. Our frozen Cauliflower Pizza Crust is made with real cauliflower, providing the perfect blank canvas for your fresh culinary masterpiece or last night's tasty leftovers. Ready in minutes and cooked to crispy perfection, everyone at the table will be saying "Wait, this is cauliflower crust?!"
Ingredients
Cauliflower; Brown Rice Flour; Rice Flour; Water; Corn Starch; Tapioca Starch; Sunflower Oil; Egg; Extra Virgin Olive Oil; Baking Powder (Sodium Acid Pyrophosphate, Sodium Bicarbonate, Corn Starch, Monocalcium Phosphate); Xanthan Gum; Sugar; Yeast; Vinegar; Salt;
Nutrition Facts
servings pr container
Product Number: 00862871000301
Sale Information
On Sale!
Sale price valid from 2/5/2023 until 2/11/2023
Description
CAULIPOWER Cauliflower Pizza Crusts, 2 Pack, 11 oz CAULIPOWER® uses the power of veggies to make healthier, easier versions of the food you crave, that actually TASTE like the food you crave. CAULIPOWER is the #1 selling cauliflower crust pizza, the #1 natural pizza, and the #1 gluten-free pizza in the U.S. Our frozen Cauliflower Pizza Crust is made with real cauliflower, providing the perfect blank canvas for your fresh culinary masterpiece or last night's tasty leftovers. Ready in minutes and cooked to crispy perfection, everyone at the table will be saying "Wait, this is cauliflower crust?!"
Product Number: 00862871000301
Ingredients
Cauliflower; Brown Rice Flour; Rice Flour; Water; Corn Starch; Tapioca Starch; Sunflower Oil; Egg; Extra Virgin Olive Oil; Baking Powder (Sodium Acid Pyrophosphate, Sodium Bicarbonate, Corn Starch, Monocalcium Phosphate); Xanthan Gum; Sugar; Yeast; Vinegar; Salt;
Nutrition Facts
servings pr container
Product Number: 00862871000301