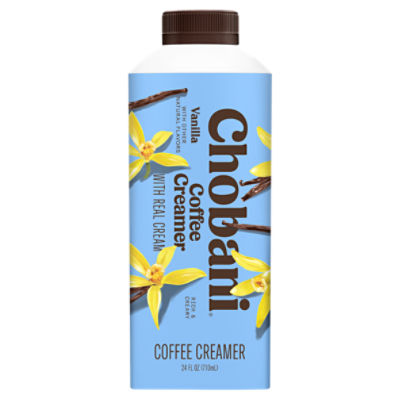 Chobani Vanilla Coffee Creamer, 24 fl oz
$4.49
was $5.19
$0.19/fl oz
Sale Information
On Sale!
Sale price valid from 2/5/2023 until 2/11/2023
Description
Chobani Vanilla Coffee Creamer, 24 fl oz No rBST* *Milk from rBST-treated cows is not significantly different. Creamy and delicious Enjoy your favorite dairy coffee creamer flavors without added oils From farm to mug A better dairy coffee creamer made from farm-fresh cream
Ingredients
Milk; Cream; Cane Sugar; Natural Flavors; Vanilla Extract;
Nutrition Facts
47 servings pr container
serving size
15 millilitre
Product Number: 00818290016935
Sale Information
On Sale!
Sale price valid from 2/5/2023 until 2/11/2023
Description
Chobani Vanilla Coffee Creamer, 24 fl oz No rBST* *Milk from rBST-treated cows is not significantly different. Creamy and delicious Enjoy your favorite dairy coffee creamer flavors without added oils From farm to mug A better dairy coffee creamer made from farm-fresh cream
Product Number: 00818290016935
Ingredients
Milk; Cream; Cane Sugar; Natural Flavors; Vanilla Extract;
Nutrition Facts
47 servings pr container
serving size
15 millilitre
Product Number: 00818290016935