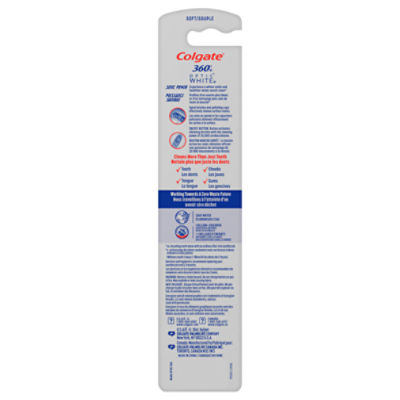 Colgate 360 Optic White Sonic Powered Soft with Tongue and Cheek Cleaner, Toothbrush, 1 Each
Sale Information
On Sale!
Sales price valid from 11/27/2022 until 12/3/2022
Description
Colgate 360 Optic White Sonic Powered Soft Toothbrush with Tongue and Cheek Cleaner 2x Whitening Action† †Whitens teeth 2 ways Experience a whiter smile and healthier whole mouth clean* *vs. brushing teeth alone with an ordinary flat-trim toothbrush Spiral bristles and polishing cups effectively remove surface stains. On/Off Button: Button activates vibrating bristles with the cleaning power of 20,000 strokes/minute. Cleans more than just teeth √Teeth √Cheeks √Tongue √Gums The Colgate 360⁰ Optic White Sonic Power toothbrush has 2X whitening action by whitening teeth in 2 ways. Soft toothbrush bristles, Colgate optic white teeth whitening, whitening, vibrating toothbrush batteries aa included, sonic power electric toothbrush, cheek tongue cleaner, toothbrushes
Product Number: 00058000140714
Sale Information
On Sale!
Sales price valid from 11/27/2022 until 12/3/2022
Description
Colgate 360 Optic White Sonic Powered Soft Toothbrush with Tongue and Cheek Cleaner 2x Whitening Action† †Whitens teeth 2 ways Experience a whiter smile and healthier whole mouth clean* *vs. brushing teeth alone with an ordinary flat-trim toothbrush Spiral bristles and polishing cups effectively remove surface stains. On/Off Button: Button activates vibrating bristles with the cleaning power of 20,000 strokes/minute. Cleans more than just teeth √Teeth √Cheeks √Tongue √Gums The Colgate 360⁰ Optic White Sonic Power toothbrush has 2X whitening action by whitening teeth in 2 ways. Soft toothbrush bristles, Colgate optic white teeth whitening, whitening, vibrating toothbrush batteries aa included, sonic power electric toothbrush, cheek tongue cleaner, toothbrushes
Product Number: 00058000140714
Product Number: 00058000140714