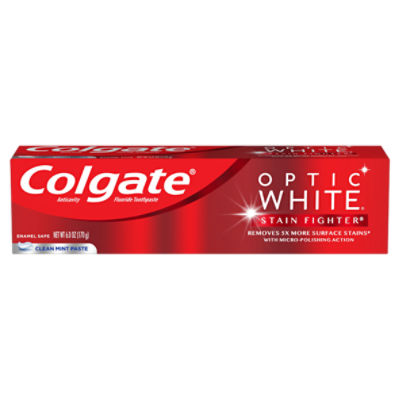 Colgate Optic White Stain Fighter Clean Mint Paste Whitening, Toothpaste, 6 Ounce
Sale Information
On Sale!
Sales price valid from 8/14/2022 until 8/20/2022
Description
Colgate Optic White Stain Fighter Clean Mint Paste Whitening Toothpaste 6.0 oz Anticavity Fluoride Toothpaste Removes 6x More Surface Stains* with Micro-Polishing Action *vs. ordinary, non whitening toothpaste after 2 weeks of continued use. Drug Facts Active ingredients - Purpose Sodium fluoride 0.24% (0.15 w/v fluoride ion) - Anticavity Use Helps protect against cavities
Ingredients
Inactive Ingredients: Water, Hydrated Silica, Sorbitol, Glycerin, PEG-12, Pentasodium Triphosphate, Tetrapotassium Pyrophosphate, Sodium Lauryl Sulfate, Flavor, Cellulose Gum, Cocamidopropyl Betaine, Sodium Saccharin, Xanthan Gum, Benzyl Alcohol, Sodium Hydroxide, Mica, Titanium Dioxide;
Product Number: 00035000472175
Sale Information
On Sale!
Sales price valid from 8/14/2022 until 8/20/2022
Description
Colgate Optic White Stain Fighter Clean Mint Paste Whitening Toothpaste 6.0 oz Anticavity Fluoride Toothpaste Removes 6x More Surface Stains* with Micro-Polishing Action *vs. ordinary, non whitening toothpaste after 2 weeks of continued use. Drug Facts Active ingredients - Purpose Sodium fluoride 0.24% (0.15 w/v fluoride ion) - Anticavity Use Helps protect against cavities
Product Number: 00035000472175
Ingredients
Inactive Ingredients: Water, Hydrated Silica, Sorbitol, Glycerin, PEG-12, Pentasodium Triphosphate, Tetrapotassium Pyrophosphate, Sodium Lauryl Sulfate, Flavor, Cellulose Gum, Cocamidopropyl Betaine, Sodium Saccharin, Xanthan Gum, Benzyl Alcohol, Sodium Hydroxide, Mica, Titanium Dioxide;
Product Number: 00035000472175