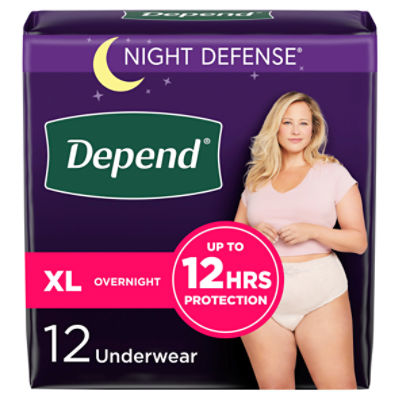 Depend Night Defense Underwear for Women, XL, 12 count
$12.99
was $13.99
$1.08 each
Sale Information
On Sale!
Sale price valid from 1/29/2023 until 2/4/2023
Description
Depend Night Defense Underwear for Women, XL, 12 count Sleep through the night with Depend Night Defense Women's Incontinence Overnight Underwear with DryShield Technology, providing you all-night comfort, guaranteed.* Featuring a beautiful color and three feminine designs, this disposable underwear is ideal for bladder incontinence for nighttime use, with up to 12 hours of protection. Extremely soft, yet strong, material instantly locks in wetness and odors, helping to keep you dry and worry-free through the night. A comfortable, underwear-like fit - it is designed with the SureFit waistband to keep underwear in place and the form-fitting elastic strands provide a smooth, discreet fit under pajamas, unlike bulky overnight adult diapers. Absorbent protective underwear is soft, quiet and breathable. Depend Night Defense for Women with Overnight Absorbency is available in four sizes - size small (24-30'' waist), size medium (31-37'' waist), size large (38-44'' waist) and size extra-large (45-54'' waist). FSA/HSA-eligible in the U.S. Packaging may vary from images shown. *If you're not completely satisfied with the fit of your Depend Underwear, we can help. Original receipt/UPC required. Restrictions apply. See Depend website for details. Purchase by 12/31/24. Mail in by 1/31/25.**vs. the leading bargain brand
Product Number: 00036000455915
Sale Information
On Sale!
Sale price valid from 1/29/2023 until 2/4/2023
Description
Depend Night Defense Underwear for Women, XL, 12 count Sleep through the night with Depend Night Defense Women's Incontinence Overnight Underwear with DryShield Technology, providing you all-night comfort, guaranteed.* Featuring a beautiful color and three feminine designs, this disposable underwear is ideal for bladder incontinence for nighttime use, with up to 12 hours of protection. Extremely soft, yet strong, material instantly locks in wetness and odors, helping to keep you dry and worry-free through the night. A comfortable, underwear-like fit - it is designed with the SureFit waistband to keep underwear in place and the form-fitting elastic strands provide a smooth, discreet fit under pajamas, unlike bulky overnight adult diapers. Absorbent protective underwear is soft, quiet and breathable. Depend Night Defense for Women with Overnight Absorbency is available in four sizes - size small (24-30'' waist), size medium (31-37'' waist), size large (38-44'' waist) and size extra-large (45-54'' waist). FSA/HSA-eligible in the U.S. Packaging may vary from images shown. *If you're not completely satisfied with the fit of your Depend Underwear, we can help. Original receipt/UPC required. Restrictions apply. See Depend website for details. Purchase by 12/31/24. Mail in by 1/31/25.**vs. the leading bargain brand
Product Number: 00036000455915
Product Number: 00036000455915