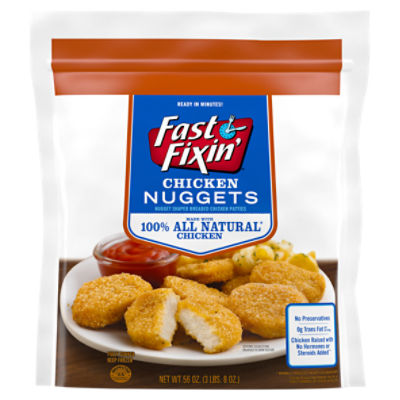 Fast Fixin' Chicken Breast Nuggets, 56 oz
Sale Information
On Sale!
Sale price valid from 2/5/2023 until 2/11/2023
Description
Fast Fixin' Chicken Breast Nuggets, 56 oz Enjoy a family favorite snack ready in minutes with Fast Fixin'® Chicken Breast Nuggets. Made with 100% natural* chicken breasts from chicken raised with no hormones or steroids added**, these chicken nuggets are seasoned and breaded to crispy perfection for a deliciously crunchy meal addition. These microwavable and oven ready white meat chicken nuggets provide 10 grams of protein per serving. For a tasty appetizer that is easy to prepare, heat and serve with a selection of your favorite dips. Includes one 56 oz package of 70 or more crispy chicken nuggets. *Minimally processed, no artificial ingredients **Federal regulations prohibit the use of added hormones or steroids in poultry
Ingredients
Chicken Breast with Rib Meat; Water; Soy Protein Concentrate; Contains 2% or less of: Salt, Sodium Phosphates, Sugar, Natural Flavorings, Yeast Extract, Chicken Fat, Corn Syrup Solids, Canola Oil, Soybean Oil, Citric Acid, Dehydrated Lemon Juice, Dehydrated Chicken Broth, Gelatin, Cottonseed Oil; Battered and Breaded with: Bleached Wheat Flour, Water, Wheat Flour, contains 2% or less of: Salt, Modified Food Starch, Yellow Corn Flour, Dextrose, Extractives of Paprika, Yeast, Spice, Sugar, Maltodextrin, Caramel Color, Yeast Extract, Leavening (Sodium Acid Pyrophosphate, Sodium Bicarbonate), Guar Gum, Spice Extractive, Whey; Breading set in Vegetable Oil;
Nutrition Facts
20 servings pr container
Product Number: 00075901338217
Sale Information
On Sale!
Sale price valid from 2/5/2023 until 2/11/2023
Description
Fast Fixin' Chicken Breast Nuggets, 56 oz Enjoy a family favorite snack ready in minutes with Fast Fixin'® Chicken Breast Nuggets. Made with 100% natural* chicken breasts from chicken raised with no hormones or steroids added**, these chicken nuggets are seasoned and breaded to crispy perfection for a deliciously crunchy meal addition. These microwavable and oven ready white meat chicken nuggets provide 10 grams of protein per serving. For a tasty appetizer that is easy to prepare, heat and serve with a selection of your favorite dips. Includes one 56 oz package of 70 or more crispy chicken nuggets. *Minimally processed, no artificial ingredients **Federal regulations prohibit the use of added hormones or steroids in poultry
Product Number: 00075901338217
Ingredients
Chicken Breast with Rib Meat; Water; Soy Protein Concentrate; Contains 2% or less of: Salt, Sodium Phosphates, Sugar, Natural Flavorings, Yeast Extract, Chicken Fat, Corn Syrup Solids, Canola Oil, Soybean Oil, Citric Acid, Dehydrated Lemon Juice, Dehydrated Chicken Broth, Gelatin, Cottonseed Oil; Battered and Breaded with: Bleached Wheat Flour, Water, Wheat Flour, contains 2% or less of: Salt, Modified Food Starch, Yellow Corn Flour, Dextrose, Extractives of Paprika, Yeast, Spice, Sugar, Maltodextrin, Caramel Color, Yeast Extract, Leavening (Sodium Acid Pyrophosphate, Sodium Bicarbonate), Guar Gum, Spice Extractive, Whey; Breading set in Vegetable Oil;
Nutrition Facts
20 servings pr container
Product Number: 00075901338217