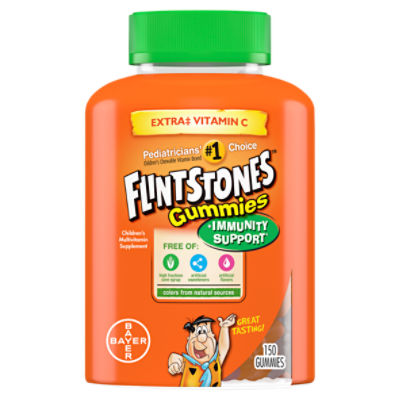 Flintstones Children's Multivitamin + Immunity Support Gummies, 150 count
$9.59
was $15.99
$0.06 each
Sale Information
On Sale!
Sales price valid from 1/29/2023 until 2/4/2023
Description
Flintstones Children's Multivitamin + Immunity Support Gummies, 150 count Children's Multivitamin Supplement Extra‡ vitamin C ‡With 67% DV more vitamin C than Flintstones Complete Gummies (90 mg vs. 30 mg) + Immunity support* Great tasting! Rich in 10 key nutrients important for kids Supports:* Eye Health Vitamins A, C & E Growth & Development Vitamin A, D, zinc & iodine Immune Health Vitamins A, C, D, E & zinc Bone Health Vitamin D Energy Metabolism Vitamins B5, B6, B12 & biotin (to help convert food to energy) *This statement has not been evaluated by the Food and Drug Administration. This product is not intended to diagnose, treat, cure, or prevent any disease. Does Not Contain: High fructose corn syrup, GMOs, artificial sweeteners, artificial flavors, aspartame, and fish/shellfish, dairy (milk), egg, and soy allergens
Ingredients
Glucose Syrup; Sugar; Gelatin; Ascorbic Acid; Water; Less than 2% of: Beeswax, Carnauba Wax, Citric Acid, Color (Apple, Black Carrot, Black Currant and Carrot Juice Concentrates), D-Biotin, D-Calcium Pantothenate, dl-Alpha-Tocopheryl Acetate, Folic Acid, Natural Flavor, Potassium Iodide, Pyridoxine Hydrochloride, Vegetable Oil (Palm), Vitamin A Acetate, Vitamin B12 (Cyanocobalamin), Vitamin D3 (Cholecalciferol), Zinc Sulfate;
Nutrition Facts
servings pr container
Product Number: 00016500537281
Sale Information
On Sale!
Sales price valid from 1/29/2023 until 2/4/2023
Description
Flintstones Children's Multivitamin + Immunity Support Gummies, 150 count Children's Multivitamin Supplement Extra‡ vitamin C ‡With 67% DV more vitamin C than Flintstones Complete Gummies (90 mg vs. 30 mg) + Immunity support* Great tasting! Rich in 10 key nutrients important for kids Supports:* Eye Health Vitamins A, C & E Growth & Development Vitamin A, D, zinc & iodine Immune Health Vitamins A, C, D, E & zinc Bone Health Vitamin D Energy Metabolism Vitamins B5, B6, B12 & biotin (to help convert food to energy) *This statement has not been evaluated by the Food and Drug Administration. This product is not intended to diagnose, treat, cure, or prevent any disease. Does Not Contain: High fructose corn syrup, GMOs, artificial sweeteners, artificial flavors, aspartame, and fish/shellfish, dairy (milk), egg, and soy allergens
Product Number: 00016500537281
Ingredients
Glucose Syrup; Sugar; Gelatin; Ascorbic Acid; Water; Less than 2% of: Beeswax, Carnauba Wax, Citric Acid, Color (Apple, Black Carrot, Black Currant and Carrot Juice Concentrates), D-Biotin, D-Calcium Pantothenate, dl-Alpha-Tocopheryl Acetate, Folic Acid, Natural Flavor, Potassium Iodide, Pyridoxine Hydrochloride, Vegetable Oil (Palm), Vitamin A Acetate, Vitamin B12 (Cyanocobalamin), Vitamin D3 (Cholecalciferol), Zinc Sulfate;
Nutrition Facts
servings pr container
Product Number: 00016500537281