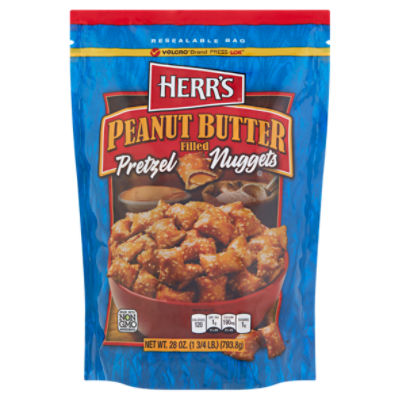 Herr's Peanut Butter Filled Pretzel Nuggets, 28 oz
Sale Information
On Sale!
Sale price valid from 1/29/2023 until 2/4/2023
Description
Herr's Peanut Butter Filled Pretzel Nuggets, 28 oz Velcro® brand Press-Lok™ How do you make a great pretzel even better? Fill it with peanut butter. Herr's® Peanut Butter Filled Pretzel Nuggets combines the savory goodness of a pretzel baked to a golden crisp and then fills them with creamy sweet peanut butter. The result? Pure peanut butter pretzel perfection! El Herr President/CEO
Ingredients
Enriched Wheat Flour (Wheat Flour, Niacin. Reduced Iron, Thiamine Mononitrate, Riboflavin, Folic Acid); Peanut Butter (Dry Roasted Peanuts, Sucrose, Mono-Diglyceride, Salt); Salt; Malt; Canola Oil;
Nutrition Facts
servings pr container
Product Number: 00072600096417
Sale Information
On Sale!
Sale price valid from 1/29/2023 until 2/4/2023
Description
Herr's Peanut Butter Filled Pretzel Nuggets, 28 oz Velcro® brand Press-Lok™ How do you make a great pretzel even better? Fill it with peanut butter. Herr's® Peanut Butter Filled Pretzel Nuggets combines the savory goodness of a pretzel baked to a golden crisp and then fills them with creamy sweet peanut butter. The result? Pure peanut butter pretzel perfection! El Herr President/CEO
Product Number: 00072600096417
Ingredients
Enriched Wheat Flour (Wheat Flour, Niacin. Reduced Iron, Thiamine Mononitrate, Riboflavin, Folic Acid); Peanut Butter (Dry Roasted Peanuts, Sucrose, Mono-Diglyceride, Salt); Salt; Malt; Canola Oil;
Nutrition Facts
servings pr container
Product Number: 00072600096417