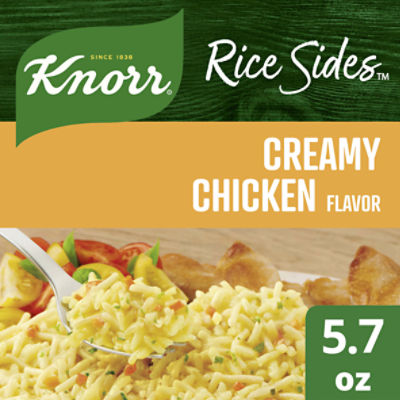 Knorr Rice Sides Creamy Chicken Long Grain Rice and Vermicelli Pasta Blend 5.7 oz
Sale Information
On Sale!
Sales price valid from 1/29/2023 until 2/4/2023
Description
Knorr Rice Sides Creamy Chicken Long Grain Rice and Vermicelli Pasta Blend 5.7 oz Our Creamy Chicken Rice Side blends a delectably creamy chicken-flavored sauce with onions, carrots, rosemary and garlic to make classic dishes a hit at the dinner table. Our deliciously seasoned rice side dishes are great as part of a delicious main dish or as a standalone side dish. Make Knorr Rice Sides the foundation of a crowd-pleasing dinner. Your family is sure to love the creamy chicken-flavored sauce of Knorr Rice Sides Creamy Chicken Rice. On top of tasting delicious, our rice dishes are quick and easy to prepare. Knorr Rice Sides cook in just seven minutes on the stovetop, or in the microwave. Knorr Rice Sides have no artificial flavors, no preservatives, and no added MSG except those naturally occurring glutamates, making them an excellent choice for creating a family-favorite meal. Use Knorr's easy rice side dishes to create a mouth-watering main dish. Simply prepare Knorr Rice Sides and add your favorite meat and vegetables to make a dinner your family is sure to love. You can find great recipes from Knorr like our chef-inspired Creamy Bruschetta Chicken -- simply add skinless chicken breast, fresh tomatoes, and shredded mozzarella cheese. Discover more quick and delicious dinner ideas at Knorr.com. Hundreds of recipes are available to help you find dinner inspiration. We at Knorr believe that good food matters, and everyday meals can be just as magical as special occasions. Our products owe their taste and flavors to the culinary skills and passion of our chefs, and we source high-quality ingredients to create delicious side dishes, bouillons, sauces, gravies, soups, and seasonings enjoyed by families everywhere. Rice & Pasta Blend in a Creamy Chicken Flavored Sauce with other Natural Flavors
Ingredients
Parboiled Long Grain Rice; Vermicelli (Wheat Flour, Durum Flour); Corn Starch; Maltodextrin; Whey Protein Concentrate; Less than 2% of: Hydrolyzed Soy Protein, Carrots, Salt, Chicken Fat, Onion Powder, Spices, Potassium Chloride, Yeast Extract, Chicken Broth, Disodium Inosinate, Disodium Guanylate, Natural Flavors, Turmeric (for color), Whey, Nonfat Dry Milk; Vitamins and Minerals: Niacin, Ferric Orthophosphate (Iron), Ferrous Sulfate (Iron), Thiamine Mononitrate (Vitamin B1), Riboflavin (Vitamin B2), Folic Acid;
Nutrition Facts
servings pr container
Product Number: 00041000022623
Sale Information
On Sale!
Sales price valid from 1/29/2023 until 2/4/2023
Description
Knorr Rice Sides Creamy Chicken Long Grain Rice and Vermicelli Pasta Blend 5.7 oz Our Creamy Chicken Rice Side blends a delectably creamy chicken-flavored sauce with onions, carrots, rosemary and garlic to make classic dishes a hit at the dinner table. Our deliciously seasoned rice side dishes are great as part of a delicious main dish or as a standalone side dish. Make Knorr Rice Sides the foundation of a crowd-pleasing dinner. Your family is sure to love the creamy chicken-flavored sauce of Knorr Rice Sides Creamy Chicken Rice. On top of tasting delicious, our rice dishes are quick and easy to prepare. Knorr Rice Sides cook in just seven minutes on the stovetop, or in the microwave. Knorr Rice Sides have no artificial flavors, no preservatives, and no added MSG except those naturally occurring glutamates, making them an excellent choice for creating a family-favorite meal. Use Knorr's easy rice side dishes to create a mouth-watering main dish. Simply prepare Knorr Rice Sides and add your favorite meat and vegetables to make a dinner your family is sure to love. You can find great recipes from Knorr like our chef-inspired Creamy Bruschetta Chicken -- simply add skinless chicken breast, fresh tomatoes, and shredded mozzarella cheese. Discover more quick and delicious dinner ideas at Knorr.com. Hundreds of recipes are available to help you find dinner inspiration. We at Knorr believe that good food matters, and everyday meals can be just as magical as special occasions. Our products owe their taste and flavors to the culinary skills and passion of our chefs, and we source high-quality ingredients to create delicious side dishes, bouillons, sauces, gravies, soups, and seasonings enjoyed by families everywhere. Rice & Pasta Blend in a Creamy Chicken Flavored Sauce with other Natural Flavors
Product Number: 00041000022623
Ingredients
Parboiled Long Grain Rice; Vermicelli (Wheat Flour, Durum Flour); Corn Starch; Maltodextrin; Whey Protein Concentrate; Less than 2% of: Hydrolyzed Soy Protein, Carrots, Salt, Chicken Fat, Onion Powder, Spices, Potassium Chloride, Yeast Extract, Chicken Broth, Disodium Inosinate, Disodium Guanylate, Natural Flavors, Turmeric (for color), Whey, Nonfat Dry Milk; Vitamins and Minerals: Niacin, Ferric Orthophosphate (Iron), Ferrous Sulfate (Iron), Thiamine Mononitrate (Vitamin B1), Riboflavin (Vitamin B2), Folic Acid;
Nutrition Facts
servings pr container
Product Number: 00041000022623