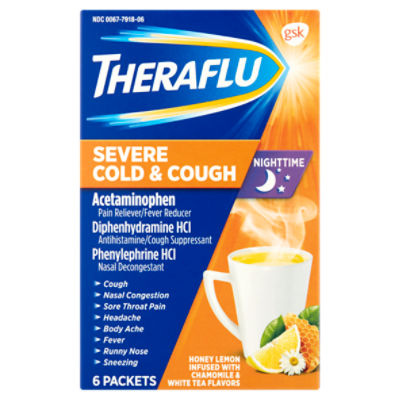 Theraflu Nighttime Severe Cold & Cough, Packets, 6 Each
Sale Information
On Sale!
Sales price valid from 9/25/2022 until 10/1/2022
Description
Theraflu Nighttime Severe Cold & Cough Packets, 6 count Nighttime Severe Cold & Cough Honey Lemon Infused with Chamomile & White Tea Flavors Packets Uses • temporarily relieves these symptoms due to a cold: • minor aches and pains • minor sore throat pain • headache • nasal and sinus congestion • runny nose • sneezing • itchy nose or throat • itchy, watery eyes due to hay fever • cough due to minor throat and bronchial irritation • temporarily reduces fever Drug Facts Active ingredients (in each packet) - Purposes Acetaminophen 650 mg - Pain reliever/fever reducer Diphenhydramine HCI 25 mg - Antihistamine/cough suppressant Phenylephrine HCI 10 mg - Nasal decongestant
Ingredients
Inactive Ingredients: Acesulfame Potassium, Anhydrous Citric Acid, Aspartame, D&C Yellow No. 10, FD&C Blue No. 1, FD&C Red No. 40, Flavors, Maltodextrin, Silicon Dioxide, Sodium Citrate, Sucrose, Tribasic Calcium Phosphate;
Product Number: 00300677918067
Sale Information
On Sale!
Sales price valid from 9/25/2022 until 10/1/2022
Description
Theraflu Nighttime Severe Cold & Cough Packets, 6 count Nighttime Severe Cold & Cough Honey Lemon Infused with Chamomile & White Tea Flavors Packets Uses • temporarily relieves these symptoms due to a cold: • minor aches and pains • minor sore throat pain • headache • nasal and sinus congestion • runny nose • sneezing • itchy nose or throat • itchy, watery eyes due to hay fever • cough due to minor throat and bronchial irritation • temporarily reduces fever Drug Facts Active ingredients (in each packet) - Purposes Acetaminophen 650 mg - Pain reliever/fever reducer Diphenhydramine HCI 25 mg - Antihistamine/cough suppressant Phenylephrine HCI 10 mg - Nasal decongestant
Product Number: 00300677918067
Ingredients
Inactive Ingredients: Acesulfame Potassium, Anhydrous Citric Acid, Aspartame, D&C Yellow No. 10, FD&C Blue No. 1, FD&C Red No. 40, Flavors, Maltodextrin, Silicon Dioxide, Sodium Citrate, Sucrose, Tribasic Calcium Phosphate;
Product Number: 00300677918067