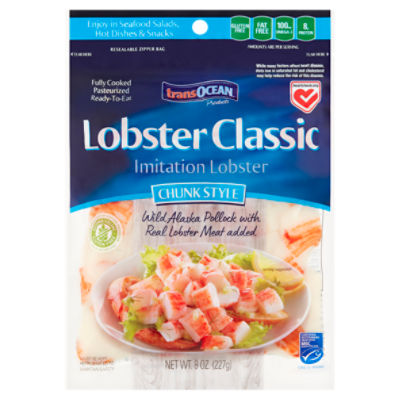 Trans Ocean Lobster Classic Chunk Style, Imitation Lobster, 8 Ounce
Sale Information
On Sale!
Sales price valid from 8/14/2022 until 8/20/2022
Description
Trans Ocean Lobster Classic Chunk Style Imitation Lobster, 8 oz Wild Alaska Pollock with Lobster Meat Added Enjoy the great taste & healthy benefits of Lobster Classic. • Gluten free & heart healthy • Fully cooked & ready-to-eat • Wild & sustainable Alaska Pollock
Ingredients
Alaska Pollock (MSC Certified); Water; Pea Starch; Sorbitol; Sugar; Modified Tapioca Starch; Contains 2% or less of: Lobster Meat, Natural and Artificial Flavor (Extracts of Lobster, Blue Crab, Snow Crab, and Alaska Pollock), Refined Fish Oil* (Anchovy, Sardine), Rice Wine (Water, Rice, Koji), Egg Whites, Sea Salt, Potassium Chloride, Disodium Inosinate, Sodium Pyrophosphate, Soy Lecithin, Carmine, Paprika, Color added; *Adds a trivial amount of Fat;
Nutrition Facts
servings pr container
Product Number: 00715166052014
Sale Information
On Sale!
Sales price valid from 8/14/2022 until 8/20/2022
Description
Trans Ocean Lobster Classic Chunk Style Imitation Lobster, 8 oz Wild Alaska Pollock with Lobster Meat Added Enjoy the great taste & healthy benefits of Lobster Classic. • Gluten free & heart healthy • Fully cooked & ready-to-eat • Wild & sustainable Alaska Pollock
Product Number: 00715166052014
Ingredients
Alaska Pollock (MSC Certified); Water; Pea Starch; Sorbitol; Sugar; Modified Tapioca Starch; Contains 2% or less of: Lobster Meat, Natural and Artificial Flavor (Extracts of Lobster, Blue Crab, Snow Crab, and Alaska Pollock), Refined Fish Oil* (Anchovy, Sardine), Rice Wine (Water, Rice, Koji), Egg Whites, Sea Salt, Potassium Chloride, Disodium Inosinate, Sodium Pyrophosphate, Soy Lecithin, Carmine, Paprika, Color added; *Adds a trivial amount of Fat;
Nutrition Facts
servings pr container
Product Number: 00715166052014