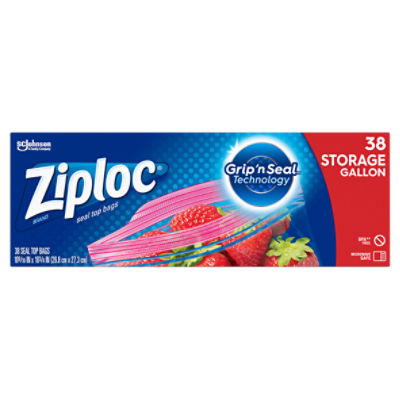 Ziploc® Storage Bags Gallon, 38 CT
Sale Information
On Sale!
Sales price valid from 1/29/2023 until 2/4/2023
Description
Ziploc® Storage Bags Gallon, 38 CT Unloc the convenient life with Ziploc® Brand Storage Bags. Featuring Grip 'n Seal technology that includes easy-open tabs and non-slip textured grips, these BPA-free plastic storage bags are easy to open, hold and seal. They're ideal for storing leftovers or pre-prepared ingredients for a healthy meal without making a mess of the bag, your hands or the kitchen! The easy-to-use, durable nature of these gallon-size Ziploc® bags means they're ideal for use in packed lunches, picnics or to store food and non-food items around the house. They're a great way for you to pack up favorite snacks, favorite games and even favorite family traditions and keep them safe. • Perfect for storing fresh food items like fruits, vegetables, meat, fish or cheese in the fridge or freezer • Triple seal system with extended tab, easy-grip texture and double zipper makes these Ziploc® bags easy to use • Each pack contains 38 reusable Ziploc® bags made of durable and long-lasting BPA-free plastic BPA** Free **BPA is not used to make polyethylene
Ingredients
Polyethylene; Dye; Ink; SCJ Formula # 35*29693, 35*34193;
Product Number: 00025700003205
Sale Information
On Sale!
Sales price valid from 1/29/2023 until 2/4/2023
Description
Ziploc® Storage Bags Gallon, 38 CT Unloc the convenient life with Ziploc® Brand Storage Bags. Featuring Grip 'n Seal technology that includes easy-open tabs and non-slip textured grips, these BPA-free plastic storage bags are easy to open, hold and seal. They're ideal for storing leftovers or pre-prepared ingredients for a healthy meal without making a mess of the bag, your hands or the kitchen! The easy-to-use, durable nature of these gallon-size Ziploc® bags means they're ideal for use in packed lunches, picnics or to store food and non-food items around the house. They're a great way for you to pack up favorite snacks, favorite games and even favorite family traditions and keep them safe. • Perfect for storing fresh food items like fruits, vegetables, meat, fish or cheese in the fridge or freezer • Triple seal system with extended tab, easy-grip texture and double zipper makes these Ziploc® bags easy to use • Each pack contains 38 reusable Ziploc® bags made of durable and long-lasting BPA-free plastic BPA** Free **BPA is not used to make polyethylene
Product Number: 00025700003205
Ingredients
Polyethylene; Dye; Ink; SCJ Formula # 35*29693, 35*34193;
Product Number: 00025700003205